The best compound bow under $300 is on of the best options when you want to combine good performance with affordability.
Although it can be worth considering the different solutions you have on the long haul, it may also be worth finding out the innovative options that even with an affordable budget, you'll still get them on the market.
Below we have listed and tested some of the best options in the world of archery and recommend what we believe to be the very best.
Best compound bows under 300
These choices where hand picked buy us to not break the bank with higher end compound bow options, but provide some cheaper alternatives that are high quality, and come jam packed with amazing features.
The 3 Best Compound Bows Under $300
Leader Accessories Compound Bow 30-55 lbs
Bow Specifications
Brace Height: 7"
Draw Length: 19" to 29"
Bow Length: 28"
Draw Weight: 30 to 55 lbs
IBO Speed: 296 FPS
Bow Weight: 3.3 lbs
Let-Off: 70%
Description
When hunting for fun, the Leader Accessories Compound Bow is worth considering. Their 30-35 lbs model is an ideal option for both targets shooting and youths.
The Bow is uniquely engineered for outdoor hunting and target practice.
What's more, its high-quality features guarantee its performance and durability.
Mostly designed for right-handed shooters, the model comes with a complete set of archery accessories.
Since adjustability is a well-known factor with this brand, you can adjust the model's weight from 19" to 29" and the poundage from 30 lbs to 55 lbs.
Undoubtedly, the performance, versatility, and resolve of this bow is something you will admire.
Suitability for Hunting
It's a great hunting bow for beginners, youths, and even experienced archers. Its poundage adjustment (30 lbs to 55 lbs) is ideal for both small and medium game.
Women and youths with small bodies will particularly gain from the compact aspect of this bow.
Regardless of whether you decide to shoot at peak weight, you'll still make incredible shots with no or little strain.
Undoubtedly, the let-off is somewhat forgiving at 70%. As a result, you will rarely experience erratic arrow flights or release difficulties during hunting.
From every draw length you select from 19" to 29", the bow will offer you consistent performance.
Even with lower poundage, the model also provides you with top performance, especially for target shooting.
The draw cycle of this bow is another thing you'll certainly admire since it's extremely smooth due to the unmatched dual cam system.
For a 30-55 lbs bow, the 296 FPS speed is a little impressive.
The Type of Arrows to Use
Although you'll have a hunting masterpiece with this Leader Accessories Compound Bow, the way you perform on the field will rely on your arrow selection.
It's better if your arrows are a little longer compared to the draw length; or otherwise, they're probably going to fall off the arrow rest's back when you are drawing the bow.
Typically, 100 grains are the recommended arrow tip weight while 0.441 is the recommended arrow spine deflection.
For the 19" to 29" draw length, 30" carbon or aluminum arrows are recommended. Generally, the aluminum arrows seem more versatile compared to carbon.
Ready to Hunt Package
It comes with 2pcs of 30" aluminum arrow, drop-away arrow rest, release aid, d string loop, peep sight, wax, and fibre optic sight.
XGear Outdoors Compound Bow 30-55 lbs
Specifications
Weight: 3.3 lbs
Arrow spine deflection: 0.441"
Draw weight: 30-55 lbs
No bow press needed
Wax
Description and Recommended Arrows
The XGear Outdoors is usually available in an elegant green design, with a few black accessories, green camo with accessories, autumn camo, and other green accessories that contribute to its great appearance.
More often than not, the usual bow design is for right-handers.
That means that the user uses his or her right hand to pull the string while allowing a draw weight of 30 lbs to 55 lbs.
The XGear also comes with a dual fibreglass split limb, aluminum riser, and arrow tip weight of approximately 100 grains.
Regardless of your level of experience, you will not require a bow press.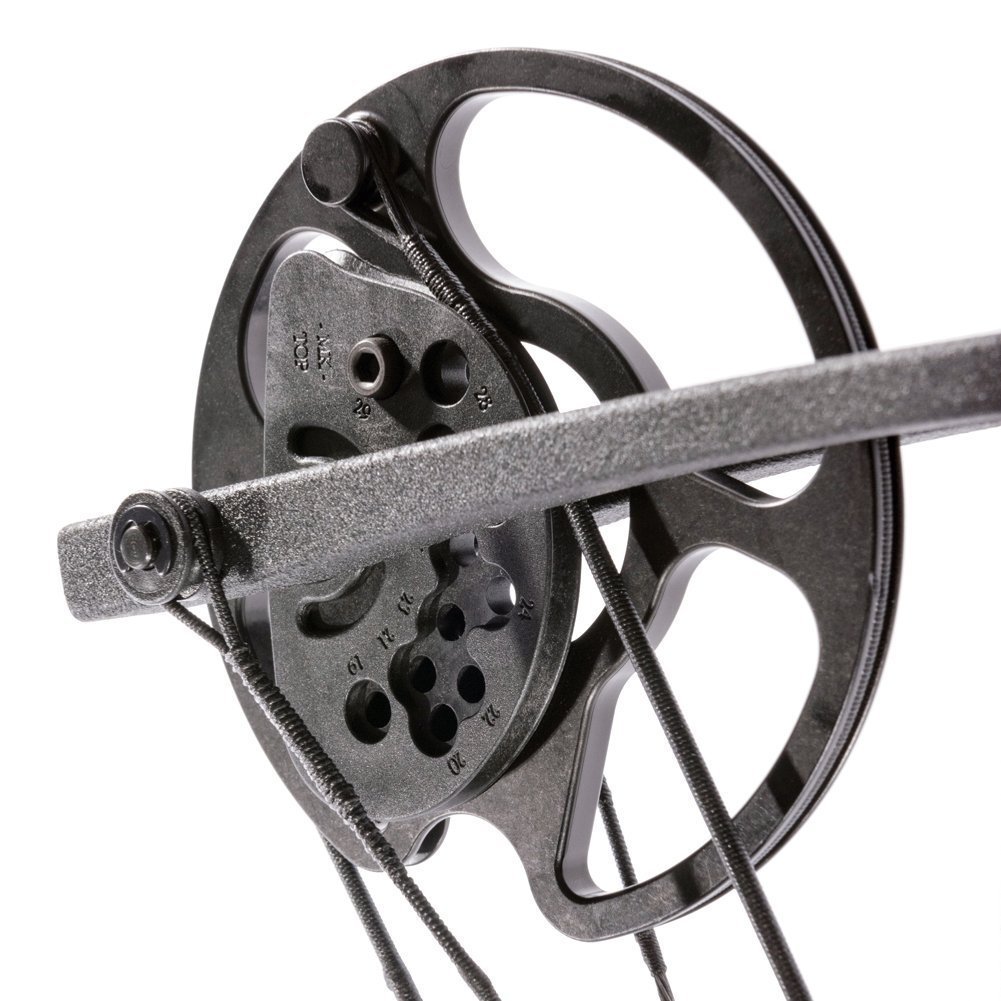 A majority of buyers out there say that their young ones of ages between 11 and 14 loved this bow.
The bow is compact with the two pieces of 30 inches aluminum arrow, drop away arrow rest, peep sight, wax, string loop, release aid, and fibre optic sight.
Using the bolts, you can adjust both the height and weight of the bow and make sure that you get to your comfort zone while the bow play is running smoothly around you.
When it comes to the choice of arrow, the developer team of this particular bow recommend both the aluminum and carbon arrow of 30 inches to achieve the best results.
What We Think
Indeed, the XGear Outdoors Compound Bow 30-55 lbs is an excellent and affordable choice to begin hunting.
It has an ideal size that is suitable for young hunters and ladies, as well.
With some more add-ons, this bow should do a great job to get the beginner all ready to begin the hunt.
XGeek Compound Bow, with Hunting Accessories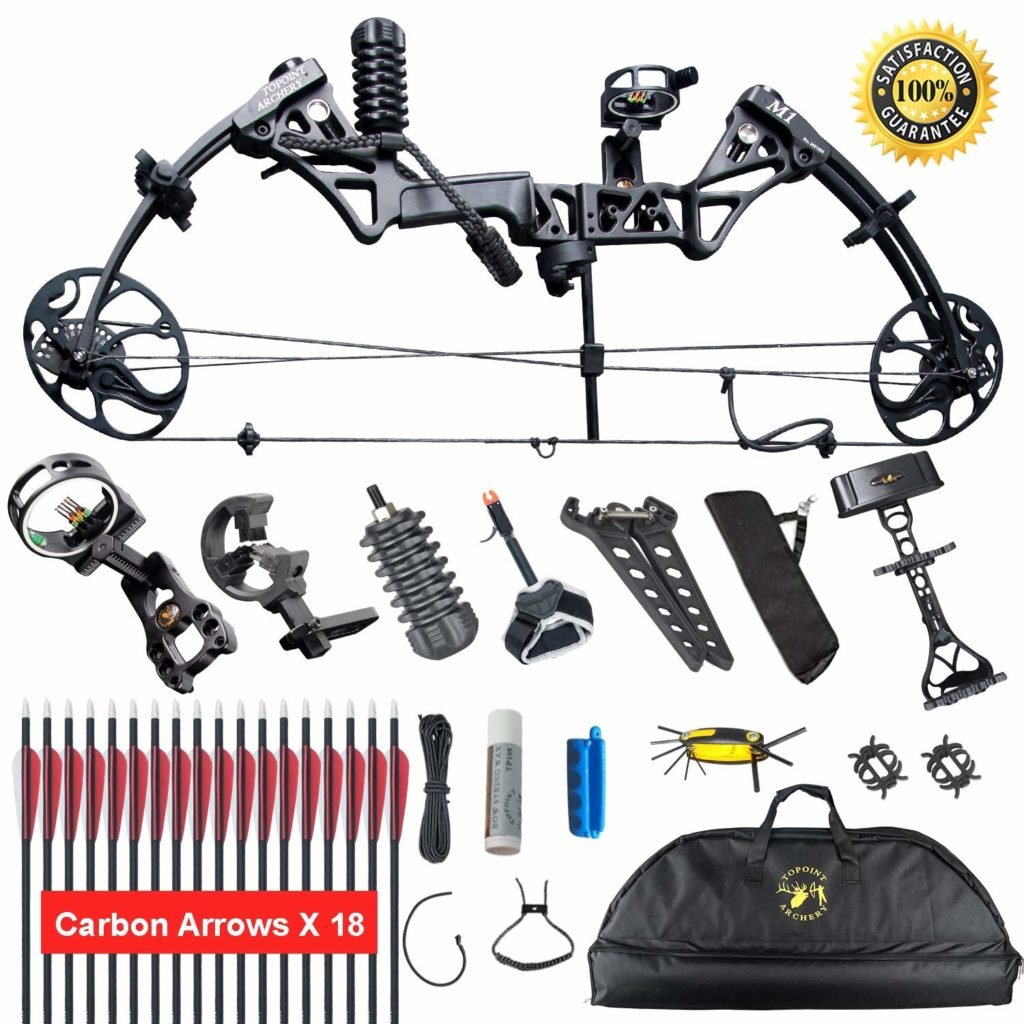 Specifications
Strong aluminum design and build
Up to 320 FPS
19-70 Lbs draw weight
Made in USA
The XGeek Compound Bow comes with features like durable limbs, CNS milling, and aluminum riser.
The complete package consists a compound bow, 24" by 30" carbon mix arrows, an arrow quiver, a rubber stabilizer, one braided bowstring, and other items like limbsavers, which makes it a worthwhile package.
The model generally has a draw weight ranging from 15 lbs to 70 lbs, which makes it versatile to many users.
A draw length ranging from 19" to 30" also plays a huge role for adjustability to best suit the user.
Its adjustability makes it an excellent option for beginners, and the package makes sure that it provides the beginner with every item he or she needs.
What's more, the material is durable and sturdy, and the compound bow can shoot accurately from any distance.
This is one of the better options if you're looking at picking something up that has large amount of value in terms of the packages accessories that come with it, and need something that is lightweight and sturdy.
Overall Assessment
In general, this is pretty much worth the higher price because you will receive a great kit and a quality bow that are perfect for any new or experienced user.
In general, the kit consists of a wide range of accessories, and the bow itself is much easier to adjust to suit the capabilities and preferences of the users.
Even though some of the tips sometimes tend to screw off easily, just make sure that you have the necessary equipment to tighten them properly.
What's more, the model is not only accurate but also relatively easy to assemble.
Typically, it is built from an aluminum limb; therefore, it is lightweight but has a strong build.
Bottom Line:
Compound bows are actually a considerable investment since they are relatively easy to use for both beginners and professionals.
More often than not, they come with a range for draw length and weight, which makes them great items to grow with during different hunting seasons.
When it comes to good cheap compound bows, they are never that easy to find.
Its always imperative to invest in a quality bow, choosing a super cheap one can be a huge waste of money as the bow itself will easily break, or the strings that come attached will be fragile and break easily.
However, you now know some of the ideal compound bows under $300 that you can choose. Hopefully, you can find the one that is perfect for you.