If you're looking at getting your kid into the sport of compound bows, then finding the perfect bow for them is a must. There's a lot of cheap alternatives out there, but most of them will break and shows signs of wear and tear after not much use.
Because of this, we decided to compile a list of the very best youth compound bows for 12 year olds on the market to ensure you get them something that is structurally sound, solid, and provides amazing accuracy so they can become a pro in no time at all.
These bows are the cream of the crop and I've personally tested these over and over again to get a feel of how well they perform, how strong they are, and which ones provide the best accuracy and longest arrow shots.
So lets get straight into the list shall we!
Bear Archery Scout Bow Set
In terms of beginner bows for youth's, this is one for the best options for starting out. Not only is it affordable, but its quality is extremely good for the price point.
This is one of the best entry level bows out there as its the perfect size for anyone from the age of 7-12, and is built with an incredibly sturdy material and can be pulled back to 22-24 inches, which will suit most youth's, making for an easy and smooth shot.
This is the option we would recommend for any younger beginner wanting to test their skills
One of the best features of this pack is the accessories that it comes with, making it ready to use straight out of the box. Included is the bow, pin sight, finger rollers, arrow quiver, 2 safety glass arrows and an arm guard to protect the arm from any string recoil.
This is a perfect beginner option for anyone wanting to make the entry into the sport, and can be a great springboard as it can be used to get a real good feel for how to shoot the bow, and can later be upgraded to a more professional one without spending too much money.

Crosman Elkhorn Jr. Compound Bow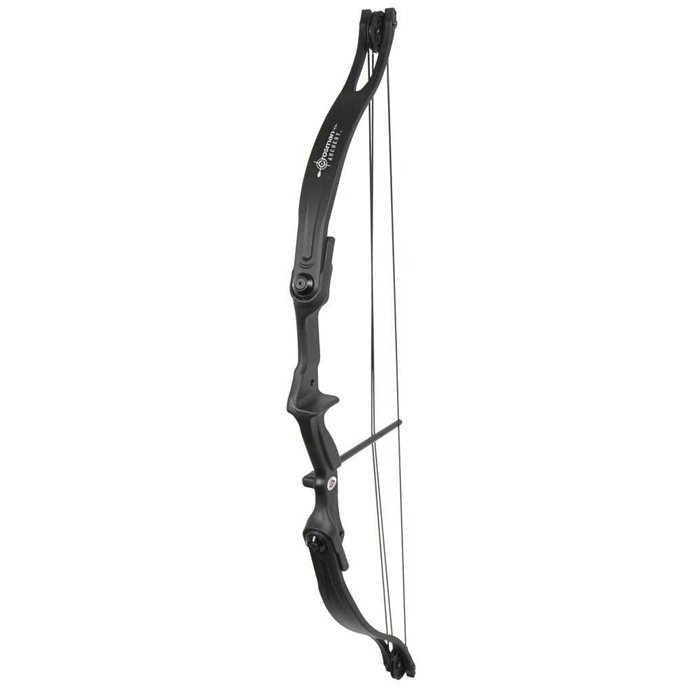 Now this is a beautiful compound bow, and one of the more well built ones for kids. With its incredible matte black finish and durable, heavyweight composite limbs make it a perfect choice for the more intermediate kids that may already have a bit of experience with a bow, but can still be a great beginner option because of its ease of use and accessories that it comes packed with.
It measures in at 33 inches axle to axle making it perfect for anyone in the 10-13 age bracket. The draw weight sits in at around 17-21 lb which is a solid amount as it will be fairly easy for any 10-13 year old to pull back, but will still allow enough power to get a far shot with any arrow.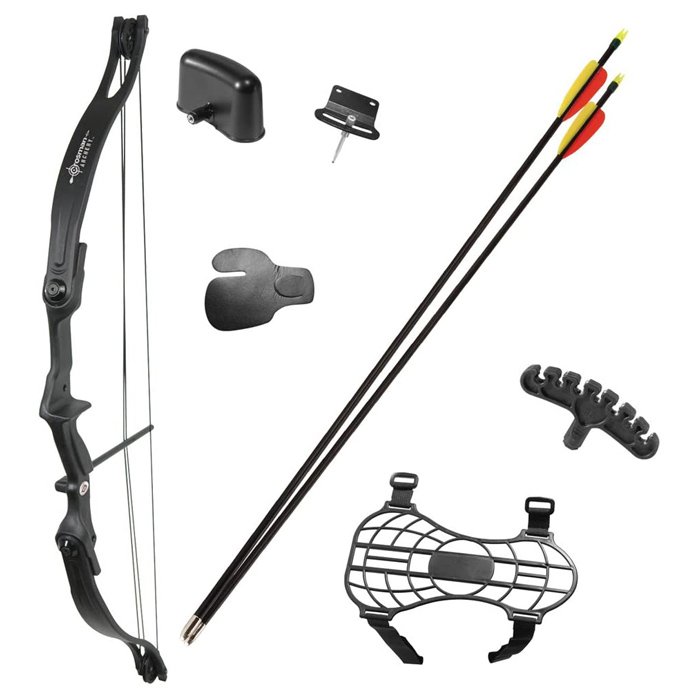 You can get a reasonable draw with this product at 26″ max draw, which will allow a real decent shot that will help improve accuracy, speed and the overall skill of the shooter.
This is also great value for the money you will be spending, as it comes jam packed with a wide range of accessories ranging from 2 composite arrows, rest, sight, arm guard, 2 piece quiver and a finger tab, making it one of the best value options out there.

PSE ARCHERY Mini Burner
Now this is a bow. If you're looking for something that is great for beginners, but has enough advanced features that it can be used for years, even as the kid grows older, then this is the option you need to pick up.
This is more in tune with a professional compound bow that adults would use, but at a size that makes it incredibly easy for entry level youth's to use and hone their skills on.
With a draw length of 16 inches to 26 ½ inches, its perfect for anyone in the age bracket of 12-15, as it allows enough length for younger kids, but can be adjusted to provide more as they age and become bigger. The draw weight is also set at 29,40 lbs, meaning its easier enough to pull back for younger kids, but again can be adjusted to provide more as they age, making this package one of the best bang for your buck packages.
The design and build of this bow is also something worth the money, constructed from carbon, its incredibly solid and strong, and can take a beating without breaking. It also comes in two camo colors, green and pink, which is something not usually seen on youth bows.
This is also great value for money as it comes per-packed with a 3-pin sight, arrow rest, arrow quiver, stabilizer, and three high quality carbon arrows. Oh do we also mention that its completely made in the USA, so you know its of the highest quality.
Conclusion
When trying to find the perfect option for your kid, or if you are a kid looking for something that is sturdy, looks cool and works well, then the ones we have listed are by far the best currently on the market.
They all offer great builds, accessories, and value for money, and will last a long time even after thousands of uses. You really want to put in the effort to find the right one that fits you so you can slowly improve your skills over time before you switch to a more advanced bow.