Are you looking for a new compound bow for target shooting?
Or, perhaps just looking to acquire some great practice at target shooting before your next hunting game?
Regardless of the reason, if you're here, you're most likely searching for a nice, long-lasting compound bow you could use for target shooting.
There's a lot to love about these bows.
Since their designs have been improving for a long time now, you can utilize these compound bows much more effectively.
Sometimes, these bows are even much better compared to their re-curve counterparts. Due to how they're engineered and designed, you may find it hard to find the most suitable one for your particular needs.
Let's take a look at the best compound bows, as well as bow kits that you can consider to acquire.
The Very Best Compound Bows For Target Shooting
Genesis Pro Compound Bow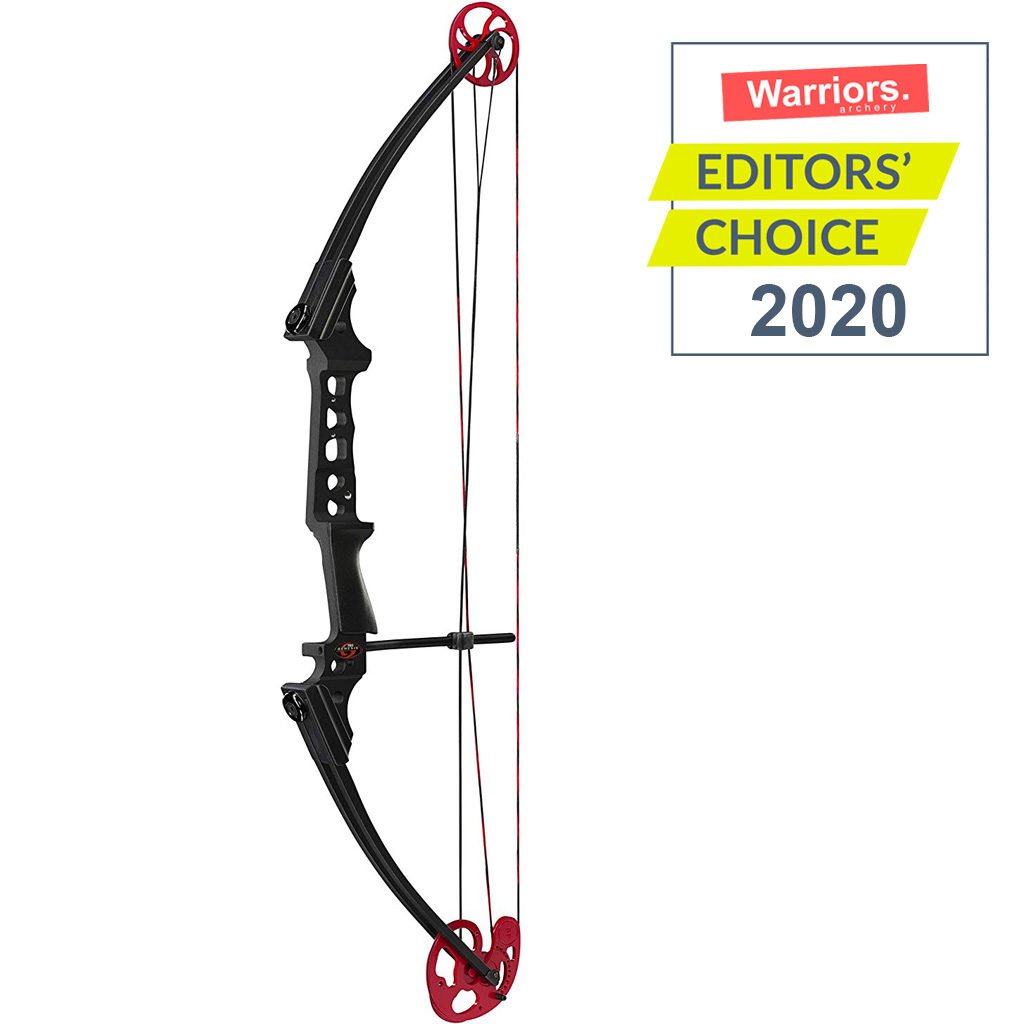 In case you're looking for an American made and flexible solution, this compound bow might be the ideal model for you.
The Genesis Pro is the advanced version of the commonly known Genesis Original, a common tool in lots of schools throughout the nation since it's the official bow when it comes to the NASP program.
Bow Specifics
Apart from the Pro being a durable and very sturdy option, it also has great quality.
It's well balanced and much easier to use, which makes it the best choice for beginners.
The uniquely designed aluminum riser has a reasonable weight while the molded competition grip is much more comfortable and fits a lot of hands, both right and left-handed people.
What's more, the riser is often drilled and tapped for basic accessories such as limbsavers, which allows you as much flexibility as you require for tuning.
Just like the idler wheel, the cam is built from aluminum too.
On the other hand, the limbs are built from a sturdy and quite durable composite material.
Since it has an axle to axle length (ATA) of approximately 35.5" and a full length of 39", the Genesis Pro tends not to be as compact as compared to a majority of hunting models in the market.
However, it's a very good option for target shooting.
Although it has a net weight of 3.5 pounds, it's not an ultralight model.
For target shooting, extra weight is an advantage since heavier bows tend to be much more stable when shooting.
When it comes to its brace height, it's approximately 7 5/8 inches.
Compared to a few hunting models, this is quite generous; however, this is pretty normal for target shooting.
Suitability
Since it has maximum poundage of 25 pounds, the bow isn't that suitable when hunting anything.
The bow won't satisfy any legal requirements that the states in the USA demand.
However, since you can also attach a fishing reel to the Pro, it's absolutely ideal for fishing.
Although the maximum poundage isn't that much, it will be enough to penetrate the water and hit the fish too.
Conclusion
The Pro is recommended for teens, tweens, and adults.
Due to its zero let-off, almost everybody can use it without the need to adjust the draw length frequently, which makes it a perfect option for the entire family.
It's an excellent option for beginners, recreational archers or competition shooters.
Bow hunters require to search for something else since it's meant for target practicing and not bow hunting.
Southland Archery Supply (SAS) Outrage Compound Bow
If your main goal is to acquire a solid, sturdy and also affordable compound bow, then the SAS Rage Compound Bow is an excellent choice.
Although there are much more suitable bows in this price range for an experienced archer out there, the SAS Rage Compound Bow is a perfect choice for newbies.
It's possible to purchase this bow with or with no accessories; there're two different choices, the basic and the pro pack.
Bow Features and Specifics
The SAS Rage is a powerful and much comfortable bow with incredible features and consists of high-quality construction.
Additionally, it's integrated with an approximately 35 inches axle to axle, draw length of 30 inches, and 55-70 pounds of draw weight, which comes with fast lane strings.
However, this bow has no left-hand option since it's only made for right-handed people!
When it comes to the limbs, the bow has slightly lighter and durable split limbs.
Usually, the producer makes use of compressed layered ABS (fiberglass) limbs found in the product to enhance the life and strength of the bow.
What's more, the well-machined aluminum riser allows the archer to have a great experience when resting and aiming arrows when wanting to shoot at a larger distance.
Compared with alternative models, the grip generally feels quite comfortable.
It's made from molded plastic and usually wraps the aluminum riser softly.
The SAS Rage Bow is uniquely designed to allow a bow easily adjustable with its twin-cam system built from aluminum.
In comparison to alternative similar price range compound bows, the twin-cam system works well and is quite durable.
Draw Cycle and Suitability
Although the bow comes with a draw length of 29", the draw length ranges from 26" to 30", which you can adjust accordingly.
You'll have to loosen the cam's screw and put the ideal draw length hole that you wish to set and tighten it.
Keep in mind that both cams must have similar draw lengths.
When it comes to suitability, the SAS Rage Bow is fast enough for both targets shooting and 3D shooting.
Conclusion
The SAS Rage provides you great value for your money.
For those people who have gained much experience in archery or even newbies who're looking for a great experience in archery or hunting, you shouldn't hesitate to purchase this bow.
Leader Accessories Compound Bow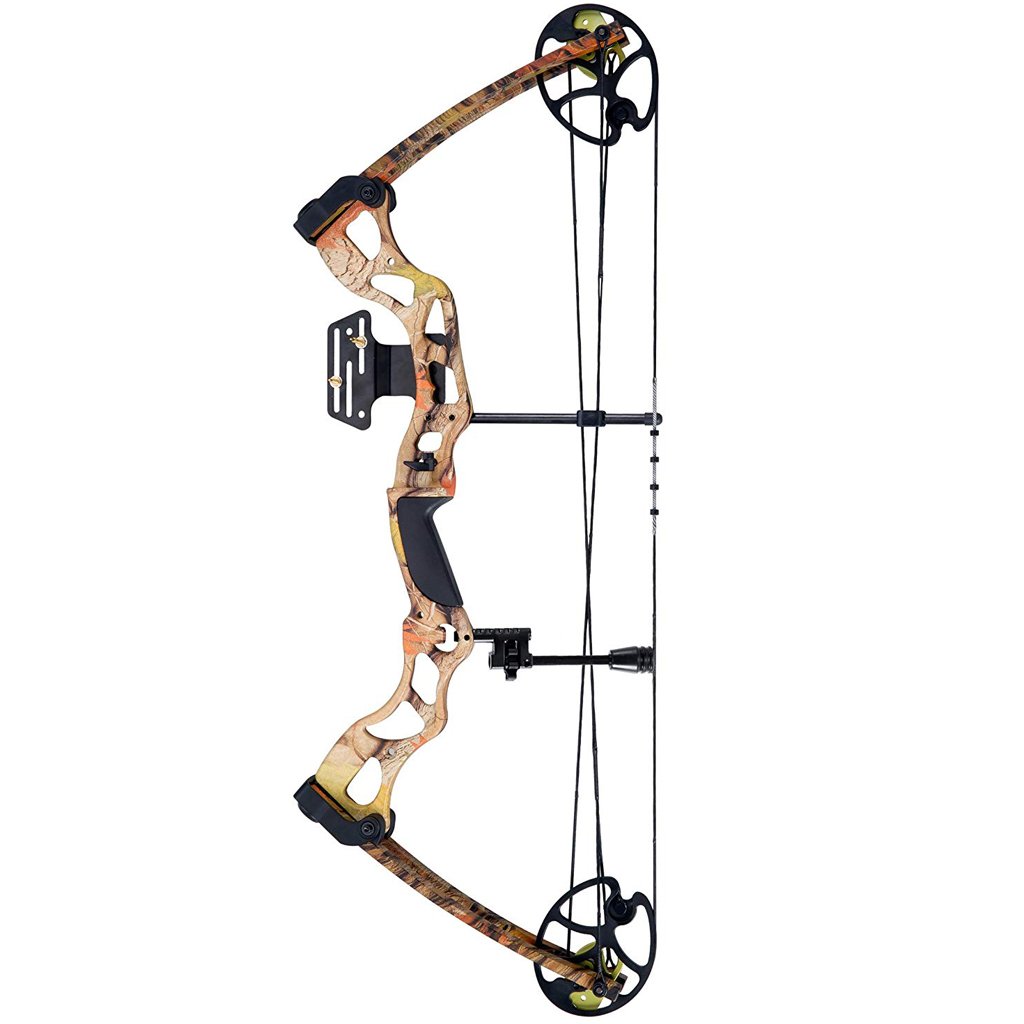 The Leader Accessories Compound Bow has a modern-looking, well-made aluminum riser with numerous cutouts to reduce the weight.
It also comprises ABS compressed split limbs, which are found in back pivoting pockets.
The cams are also made from aluminum, and the dual cam system works really well.
It's a very compact model since it has an axle to axle length of around 28".
For this reason, female and tweens should be capable of handling it well.
The bow isn't that lightweight since it has a net weight of 3.3 pounds.
The weight might exceed 4 lbs if you put a few add-ons on it.
When it comes to the string length and cable length, they range between 48.8" and 30" respectively.
Draw Cycle
It draws very smoothly because of its flawlessly functioning dual cam system.
As long as you have acquired some skills and you're shooting with a proper form, the bow is exactly right up to 60 yards.
There's no problem at all with quarter-sized groups at approximately 25 yards.
Keep in mind that you'll require to invest in much better add-ons to obtain this accuracy.
Conclusion
This is the most suitable choice if you're seeking for a well-built quality model for getting into archery or bow hunting without breaking your bank completely.
If you're also unsure if bow hunting is really for you, this bow is even a better option.
Due to its flexibility, it can be useful to teens, tweens, and females; hence, a great gift for anyone who wishes to join you in the field.
What's more, it's perfect for shooting at a 3D course or a certain range. Remember that you'll require to invest in better add-ons such as a bow sight, arrow rest, quiver, stabilizer.
Even if you save a little more, however, you'll still save lots of money than the more expensive models made by the big brands.